tabi
Features of the tabi theme
tabi is based on the open source content management system TYPO3. At toujou, we use our expertise from over 20 years experience to ensure all current web design needs are integrated into our themes. All you need to do is start editing your website! tabi features the following: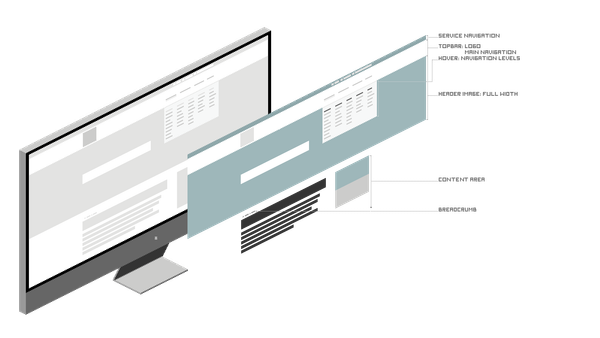 Logo and navigation bar: The two elements placed above the header provide a visual divider between the top bar and the content – and thus an aesthetically clean cut.
Tabs:

The tabs of the navigation bar are arranged at the top of the screen. To make it easier for website users to navigate your website even if there are many subpages and up to three menu levels can be opened simultaneously.

Top bar: To ensure that website visitors always have the topbar in view even when scrolling a page, the logo and navigation bar are always placed at the top of the screen.
Service navigation:

Highly frequented service links such as contact, legal or privacy are always visible above the top bar

Flexible body mask for media and text elements: You can choose between different elements to use the almost full screen width (depending on element and device) – or to give the background more blank space.
Mobile first: Of course, tabi complies with standard usability rules, especially when it comes to responsive design.
Website templates built with tabi
Who will tabi work best for?
Based on the meaning of the word, you might assume that the tabi theme is only interesting for the travel industry. But that would be too short-sighted.
Due to the mega menu with three displayable levels and service navigation, tabi is equally useful as a corporate website for small and medium-sized companies. The website remains compact and clean. tabi combines the best of the hissu and toujou themes and is beneficial for websites with a complex navigation structure.
The tabi websites listed on this site are only examples and can still be individually adapted to your design ideas at any time. We would be glad to help you.
A wide variety of individual adaptations are available in the industry templates. Or you can test for yourself what tabi has to offer with the free demo.
Theme switch? This feature is only available in toujou!
By choosing tabi as your new theme you have decided to transform the look and feel of your website. But this doesn't mean that you can't change this design later. In toujou you can try out our other themes with just one click in the theme module of your backend. Before activating your website* you have the option to be flexible in the design and can test your content in many different display formats.
*Of course, we do not recommend this while your website is already online. When changing themes or when relaunching an existing toujou website, please contact us to ensure a smooth transition.
---
---