Kontext agency
agency and customer websites with toujou
Fast, cost-efficient and custom-tailored: The perfect solution for KONTEXT
As part of its broad portfolio, the KONTEXT communications agency in Fürth, Germany, also creates and maintains websites for its clients and their projects. Before and after the (re)launch, the focus was on fast and cost-efficient technical provisioning. toujou offers this – and is also a persuading choice as an agency website.
---
KONTEXT: Communications agency for almost 30 years
KONTEXT public relations GmbH is a communications agency based in Fürth, Germany. The Franconian creative minds combine marketing, public relations and social media for successful communication of companies and local politicians as well as their campaigns. For their regional and nationwide clients, they serve the areas of strategy and content as well as crisis communication. Therefore they develop new concepts and strategies.
As a consulting agency, the management and staff are committed to sustainable cooperation with their clients. The five core values of honesty, trust, openness, equal footing and optimism form the basis for this. It is therefore not surprising that Kontext can now look back on almost 30 years of agency existence.
---
Requirement: Websites quickly and no programming knowledge needed
Which agency hasn't had this problem? A website must to be set up for a customer on a tight schedule, at low cost, and with customizations — all in the same project! Such needs are often difficult to combine and agencies have to compromise on at least one of the requirements. The custom solution means expensive and slow programming. Conversely, a website construction kit can be fast, but isn't made for custom tailoring.
KONTEXT was familiar with this problem too. Managing director Jan Frankowski and his team were looking for a cost-efficient website solution that could get their customers' projects done fast. No programming knowledge should be needed, no infinite waiting loops, no lost, precious time for the customer.
Instead, the aim was to take steps from launch, through various design adjustments, and to website launch, in a time-saving manner. The customers should receive quick results. KONTEXT, in return, should receive quick feedback. Despite price and time pressure, the custom webdesign options should not be left out. KONTEXT was also interested in an easy-to-use content management system to use for their own publishing tasks.

"toujou is a perfect option for customer projects that need to be implemented quickly and cost-effectively. The all-included worry-free package is top-notch from initial meeting to go-live."
---
Why toujou is the solution for agencies
toujou offers several advantages for the diverse needs of agencies like KONTEXT. However, a website builder based on TYPO3 is also be interesting for SEO, advertising, and other agencies. Here's why:
Editorial
Thanks to the websitebuilder-like principle, customer and agency can choose from various themes and thus take the first step together in design matters. All pages are directly optimized for all end devices due to responsive design. With CSS adjustments, further wishes can be easily incorporated – either by the customer or by the toujou team.
In addition, toujou's features cover the different website needs of SME. These include the ability to write blogposts, to create forms or events and to tackle search engine optimization (SEO) in the editor. Also, a search function is available in toujou. Despite the websitebuilder-like principle, KONTEXT can thus create an individual website easily and quickly - such as for apEYE.
---
Features at a glance
---
Economy
KONTEXT no longer needs to prepare time-consuming screen designs that have to be discussed in ping-pong with the customer until all wishes are taken into account. Instead they can present a quick idea illustrating the customer's ideas. The customer benefits too, getting immediate visual feedback of the adjustments — live in toujou. Thus, both sides are benefit by saving time and extra steps — and ultimately money.
"Already in the first step of website creation, we can already convert the customer's ideas and needs into a precise visual appearance," explains Jan Frankowski, Managing Director at KONTEXT public relations GmbH.
Moreover, neither the customer nor KONTEXT have to worry about ongoing version and security upgrades of the website. toujou takes care of that, thus guaranteeing the most up-to-date technical platform. Even more: The website-builder principle means the agency gets a fixed price and thus a predictable basis for price calculation. In addition, the ongoing development of toujou includes a steady flow of new features and content elements.
toujou as a sales tool
But toujou is not only a website builder witht a fixed price. toujou also serves agencies such as KONTEXT as a sales tool. Thanks to the many themes and industry templates provided by toujou, Frankowski and his team can quikcly send a preview link directly to a lead without investing hours of programming.
---
Create your own agency website with toujou
toujou's intuitive usability, with a simple menu navigation and the clarity of the page tree, isn't just a boon for customers, but also for agency websites. The KONTEXT team originally imagined their site as a custom development project, but, partially due to Covid, toujou's modular solution with its custom design possibilities came into focus.
The most convincing fact was already know to them: The possibility to launch a new website could with custom designed quickly! So why not transfer what works well for the customers to the agency's own website? No sooner said than done!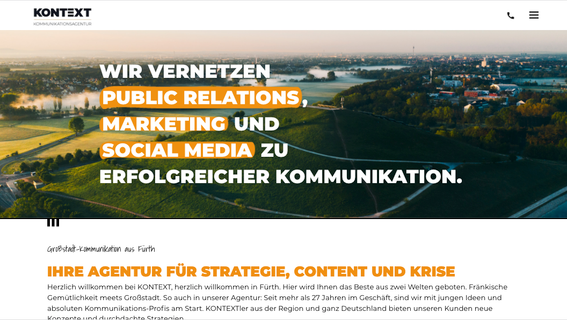 So sieht die Startseite der Kommunikationsagentur KONTEXT aus. Mit Klick auf das Bild gelangen Sie auf kontext.com. (Screenshot: kontext.com)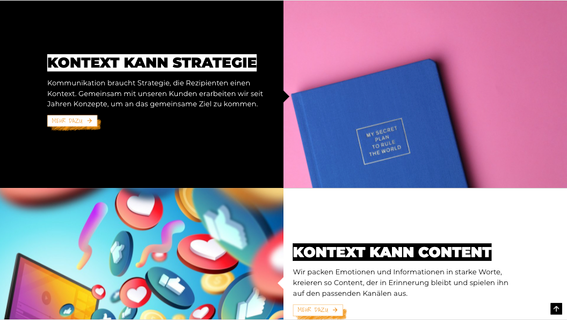 Viel Bild, wenig Worte: So prägnant präsentiert sich KONTEXT auf seiner Website. (Screenshot: kontext.com)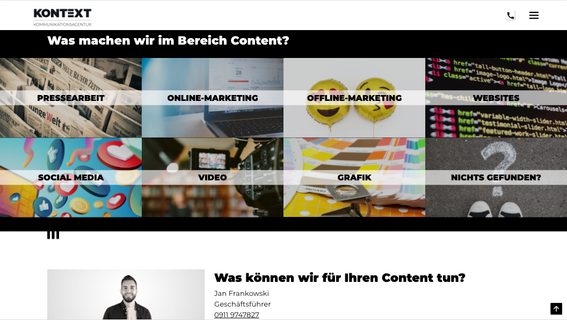 Hier zeigt KONTEXT, welche Leistungen sie im Bereich Content anbieten. (Screenshot: kontext.com)
KONTEXT chose the medatsu theme for their website. It focuses on image and video content. "Thanks to the CSS customization options, we created what looks like a custom site. We were very well looked after from the initial contact to the website launch. Whether it was about site activation formalities or backend adjustments, we could always count on quick solutions when contacting the toujou team," says Frankowski.
---
Learn more about toujou?
---