toujou
Theme features
All our themes are based on TYPO3 technology and are designed by our expert web developers, resulting in a theme that boasts state-of-the-art web design ­­– without the unnecessary overloading of elements. In particular, the toujou theme impresses with: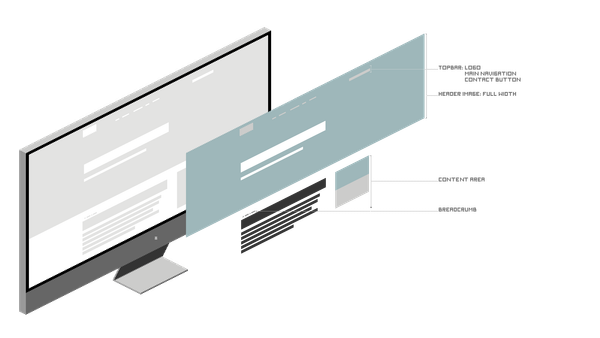 Logo and navigation bar: Both elements are integrated into the header medium and make a point on what your users can expect.
Tabs:

The tabs of the navigation bar are located at the top right of the screen. Only the elements of the first level of the navigation bar are displayed. A second and, if necessary, third level are only visible when hovering on the top level

.
Top bar:

Once your website visitors scroll through a page, the logo and navigation bar remain fixed at the top of the screen. This allows for quick and efficient navigation at all times.

Flexible body mask for media and text elements:

You can vary between different body widths to create a visual separation on the page with clever element use on larger screens.

Use alternately the almost full screen width (depending on resolution and device) or leave more free space for the background at the side edges.
Mobile first: Of course, all our themes comply with common usability rules, especially when it comes to responsive behaviour.
Templates with toujou
Who will toujou theme work best for?
toujou is not designed for just one type of industry and will work for every type of business. The deciding factor is rather which of our design and navigation features you'd prefer.
If you would like to have the navigation bar integrated into the header image and have space in the header of each subpage, the toujou theme will work well for you. The toujou website features a preset text scrolling, leaving enough free space on the left and right (especially on a desktop display).
The toujou websites listed here are examples that can be customized at any time according to your design ideas. We will be delighted to help you with this.
Have a look around our website: toujou.com is based on the toujou theme. You can also test what the theme has to offer in a free and non-obligatory demo. In the industry templates you can also browse through a wide selection of websites that were designed with a variety of our themes to get a better idea of which one will suit you best.
Websites built with toujou
Theme switch? This feature is only available in toujou!
By choosing toujou as your new theme you have decided to transform the look and feel of your website. But this doesn't mean that you can't change this design later. In toujou you can try out our other themes with just one click in the theme module of your backend. Before activating your website* you have the option to be flexible in the design and can test your content in many different display formats.
*Of course, we do not recommend this while your website is already online. When changing themes or when relaunching an existing toujou website, please contact us to ensure a smooth transition.
---
---